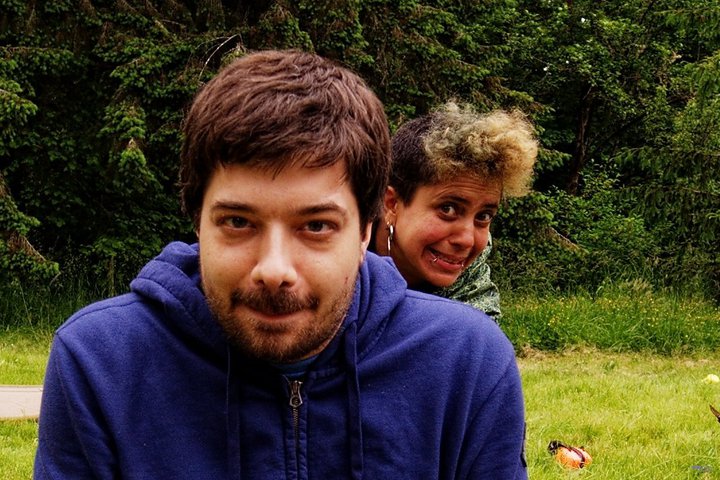 Kimya Dawson gemmer sig bag Aesop Rock. På sangen står hun stolt forrest.
For tiden brygger Aesop Rock på ny musik. Det burde være en fantastisk nyhed i selv. Enhver, der har nikket med nakken til Lucy, der aldrig har haft en drøm i sit liv, eller sunget med, når Aes splitter dagen ad, og sætter stumperne sammen på sin egen måde, må glæde sig vildt.
Men det er bestemt ikke det hele. Personen han har dannet musikalsk partnerskab med er nemlig ingen ringere end Kimya Dawson. Selvom navnet ikke ringer en klokke kender du garanteret hendes barnlige stemme og forskruede univers fra musikken til Juno. På en eller anden måde havde de fleste nok troet, at Kimya Dawson, hvis hun ikke var identisk med, i hvert fald ville ligne teenage-moren fra filmen, men i virkeligheden er hun en vild og crazy punk-chick fyldt med kærlighed og kugleskøre indfald. Se hendes fx hyle Nardwuar fuldstændig ud af den, i et af hans dårligste interviews ever.
Nå, men når Kimya ikke skriver sange om Alfabet-numser og Løselæber, så har hun også et langt mere skræmmende talent. For på "Walk Like Thunder" fortæller hun om overdosis, død og sorgbehandling på den mest ligefremme, fantastiske og hjerteskærende måde, jeg nogensinde har hørt en musiker gøre det. Med en indledning som "I have this new tattoo of which the story must be told / About the night I almost overdosed ten years ago" tror man måske, at det er en konventionel selvransagelses-hymne, men historien om fremmedgørelse, frigørelse, sammenhold og afsavn, der følger er så hjerteskærende og medfølende, at det bliver til en altidig sang om sorg. Aesop Rock leverer til sidst et potent vers om sin ven, rapperen Camu Tao, der døde af cancer, men det virker nærmest som et efterspil for sangens virkelige kerne; Kimya Dawsons kamp for at komme videre i ekstrem modstand.
Jeg synes dette er et ret godt tidspunkt, at tage ti minutter ud af dagen og lytte til noget af – hvis ikke det smukkeste – så i al fald det ærligste og stærkeste musik, der er kommet i lang tid:
Walk Like Thunder: (skru op, det er lidt lavt indspillet)
[audio:thunder.mp3]
Teksten følger her…
"I have this new tattoo of which the story must be told
About the night I almost overdosed ten years ago
I woke up in the hospital with skin clammy and cold
And tubes in my urethra, down my throat, and up my nose
My friends and the doctors were all shocked I wasn't dead
That's when Katrina looked at me and this is what she said
Walk like thunder
Walk like thunder
Walk like thunder
Walk like thunder
So I walked to the rebel spot, I walked all over uptown
I walked right side up and I walked upside down
I walked to Chetzemoka with my eyes fixed on the ground yeah
We walked all over Chetze Beach and kept the rocks we found
Then I walked back to my parents' house, I walked back to my old bed yeah
I walked back and I walked fast past all the voices in my head
I walked with the sweats and I walked with the chills
I walked in New York City and I walked in Bedford Hills
I walked into open mic nights and I walked into the rooms
I walked feeling optimistic and I walked feeling doomed
I walked with some mama's boys and I walked with some punks
I walked dressed up like a rabbit, I walked dressed up like a skunk
I walked with some givers and I walked with some leeches
I walked all by myself and I walked with the Moldy Peaches
I walked all over the world so I could sing my songs to you
And to your most desperate emails I said, "This is what I do."
I Walk like thunder
Walk like thunder
Walk like thunder
Walk like thunder
But at some point I got so comfortable
That I didn't even realise that I'd started to crawl
That my old friend Ammi died at 37 of a heart attack
And I cracked cause people my age are not supposed to die like that
No no no no people my age are not supposed to die like that
He was the old manager of the sidewalk café
That place was a second home to me, it's where I learned to play
And his personality really helped create a space
Where a bunch of honest misfits could all gather and feel safe
He was a cynic, a supporter, he was crazy, he was queer
He'd either yell out, "Cut the bullshit" or he'd say, "I'm glad you're here."
And it was always such an honour to have Ammi on my side
That's why it hit me like a Mack truck when I found out that he died
Yeah, it hit me like a Mack trucks when I found that he died
Then enter Alex, 33 years old and so sick with the cancer
And trapped inside a body that betrayed his real gender
We all hoped and prayed that he would go into remission
At least long enough, just long enough to comeplete his transition
He said, "Kimya, did you know Eleventeen's my favourite song?"
I said, "Then get your ass on stage right now and you can sing along."
That's the very first song I ever wrote all by myself
It's about angels and recovery and friends and hope and health
By the time we finished singing he was pissed off, he was scared
He said, "I lost my home, my lover, my insurance, and my hair.
And now I'm about to lose you too, my new friend."
I looked into those big blue eyes and said we'll meet again
Yeah I looked into his sad blue eyes and said we'll meet again
Then I got the phone call from Alyssa and she told me he was dying
By the time I got to his bedside we were both already flying
We held hands and we sang songs, tried to be strong floated around
While I cursed the skin that he was in for all the ways it had let him down
Yeah I cursed the skin that he was in for all the ways it had let him down
But at the same time I was taking my own body for granted
First I lost sight of my feet then they became unplanted
And I never felt so stupid or so selfish or so sad yeah
I body had been good to me and I treated it so bad yeah
My body had been good to me and I treated it so bad
Then he said, "Mama, I don't want my friends to watch me die."
So I kissed his cheek, made him a shirt, and then I said goodbye
And they cremated him in the shirt that I drew
Of the two of us that said they're flying over you too
Now the silver pink ponies have my homie in their crew
So I tightened up my laces and knew what I had to do
I started walking again, I started walking again
I miss my friends
I started walking again, I started walking again
I miss my friends
Walk like thunder
Walk like thunder
Walk like thunder
Walk like thunder
Walk like thunder
Walk like thunder
Walk like thunder
Walk like thunder
Walk like thunder
Walk like thunder
Walk like thunder
Walk like thunder
? creeps as a habit predisposed
To systematically clinging together in the cold
Know the measure of a pack, it's not a question of the whole
The individuals that bottleneck into the fold
On a March blank Sabbath, news from the ministry of make-believe that reach a tarmac in Minneapolis
Middle see, yesterday the cells inside his chest were growing baby teeth
Today a raven radiated vacancy
Wait, two years ago a friend of mine called me to redefine all enemy-kind
I'm at the hospital at twenty-four and no one knew the future
I'll take it everybody knows the future
Antibodies hatching in a helaback with no room to maneuver
Like disappearing pills into the masticated fuchsia
I asked you how you feeling, you told me like a robot
I gave you a Nintendo, you gave yourself a mohawk
You let us will you down beneath the leaning tower of flow charts
To be around your beats without a beeping sound of Bogart
And speak about whatever people speak about
When nobody's acknowledging the obvious disease about the crowbar
In deep plane slope, comatose of baggage
From King of Hearts to carrying for jackals
And never got to sing us all his own swan song right
Coincidentally the rebel in me warped like thunder
Walk like thunder"