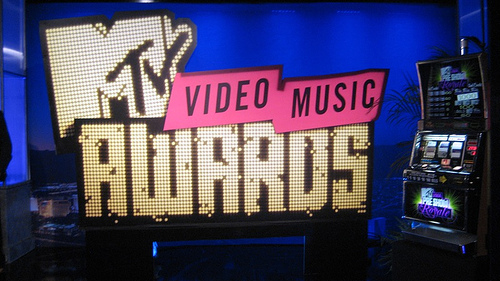 "Hvorfor skal man se MTV Awards, det er jo ikke videoernes kvaliteter der afgør hvor prisen ender!" Nej, kloge Åge, men derfor er det stadig en slags opsummering af musik-året der gik, og forhåbentlig en mulighed for at se nye store øjeblik, hvor kunstnere mødes og sød musik opstår. Og jojo, jeg ved da godt, at det ikke er hvert år Britney snaver med Madonna, Chris Novoselic fra Nirvana smider sin bas-guitar i luften og rammer sig selv i krydderen, Snoop Dogg buster Murder Was The Case i en rullestol eller Flavor Flav bumrusher scenen og skriger CONGRATULATIONS YOUNG MC!, men VMA's er ligesom sex, som er ligesom pizza. Selv når det er dårligt er det stadig okay.
Derfor lader vi her på ptas.dk op til aftenens 26. VMA's live fra Los Angeles, ved at genposte de award shows, som jeg møjsommeligt er stået op midt om natten for at blogge fra…
2005: P-Ditte unsurprisingly ruins the VMA's – here's the whole 9
Største øjeblik:
04:50 – 50 Cent comes out to Disco Inferno. He's either wearing really shiny black jeans or leather pants – how very Tyrol of him. Mobb Deep are out on stage, mad anonymous. Tony Yayo runs out, cursing his ass off, so we can't hear anything he's saying. Free Yayo. 50 and Yayo end their performance by saying Fuck Terror Squad and various threats totally bleeped out. Rappers should really think about not cursing when they want to diss their rivals on world-wide TV, so everyone can enjoy it.

Dr Dre roid'ed up, Britney hoe'ing down, Tommy and Kid Rock playing around: It's the 2007 VMA's
Største øjeblik:
21:05: Sarah Silverman is hosting, she's always funny as fuck. She's using alotta blue language, which is censored in the re-run. Knew I shoulda stayed up last night, would have probably een less commercials too. Silverman remarked that it's 'so cute' 50's still alive. 50 thought it was hilarious.

MTV VMA 2009 – Den røde løber
Største øjeblik:
02:47 Der er blevet twittered 100.000 gange om VMAS. Mest om Shakira og Pink har samme kjole på. LIKE TOTALLY OMGZ LOLZ hvordan kunne jeg undgå at opdage det?!
MTV VMA '09 – RIP Jacko, KanYe partycrasher, gakgak Lady Gaga, Jiggaman lukker og slukker
Største øjeblik:
03:34 Russell Brand laver lidt underlødig damage control, men fuck det FOR HER KOMMER JACK BLACK med en bredbil økse, kæmpe falske muskler, og beder folk om at deltage i en fællesbøn til djævlen, og det er øjensynligt kun Green day der beder med. Skal de virkelig være de eneste helte denne aften? Den går "dear dark lord satan, hope everything's good with you…" og GREEN DAY VINDER. Bønnen virkede. Tak Satan.